Serox Anti Wrinkle Eye Pads
€45,49
4 x 2 professional eye pads in beauty studio quality
Made from freeze-dried collagen
With active solution of Argireline®, Gatuline Expression® and hyaluronic acid
Makes facial lines from 35 years appear smoother
As intensive care for the eye wrinkle area once a week
Product made in Germany

Out of stock
Serox Anti Wrinkle Eye Pads
Serox Anti Wrinkle Eye Pads – Intensive Care, Equal To The Quality of an Aesthetic Center
The Serox Anti Wrinkle eye pads are an innovative anti-aging product for eye care. Collagen molecules help the skin retain hydration and the skin's own peptides stimulate regeneration. So wrinkles from dryness reduces and fights the formation of expression lines. The eye pads are made from freeze-dried pure collagen and are wet with the activation fluid. Contains an active solution of Argireline®, Gatuline Expression® and hyaluronic acid.
Smoothly place patches on eyes in the evening in front of the TV or when you talk on the phone – and give yourself an intensive care, equal to the quality of an aesthetic center.
The packaging contains 4 x 2 Pads
The Zeitgard anti aging eye pads are made of freeze-dried collagen and develop their effect in conjunction with the activation fluid. The application is ideal in combination with the Serox Instant Result Serum.
How To Use
Press the liquid into the pad chamber and open it Twin Pack when the pads are completely wet. Put the pads with the smooth side on the skin and leave it for 15 min. act. The skin looks after the Application maintained and refreshed. Repeat that Application weekly.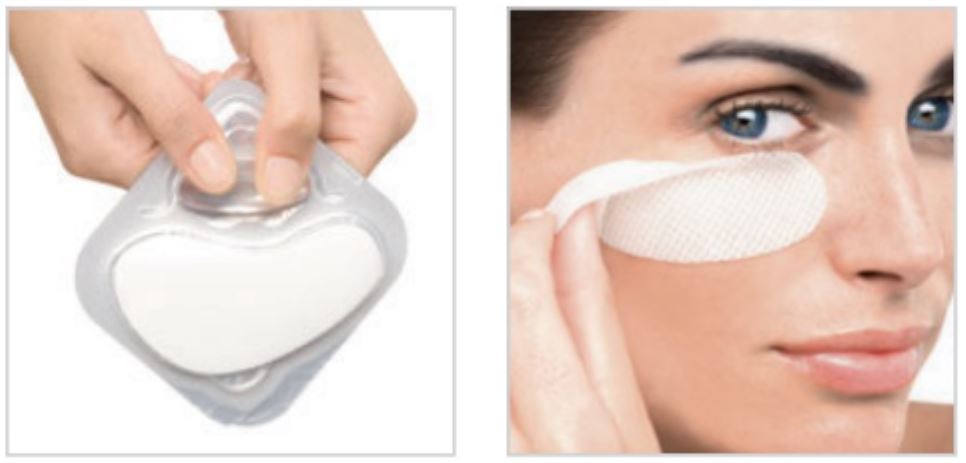 How do Serox Eye Pads work?
1. The patches are basically made of lyophilized, pure Collagen.When they are activated, they offer concentrated hydration to the eye area.
2. Intensive hydration and innovative ingredients reduce the depth of wrinkles and smooth the look of the skin.
3. The activating solution, with its active specialized ingredients, supports skin.
Aqua (Water), Glycerin, Dimethyl Isosorbide, Sodium Lactate, Acetyl Hexapeptide-8, Acmella Oleracea Extract, Sodium Hyaluronate, Alcohol, Caprylyl Glycol, Phenoxyethanol, Ethylhexylglycerin Ingredients Collagen Pads: Collagen, Rayon, Paraffin, Hydrogenated Rosin, Hydrogenated Polyisobutene, PPG-15 Stearyl Ether, PEG-40 Sorbitan Peroleate