Sale!
Night Master Sleep Improvement Set
Fall asleep easier thanks to its relaxing effect
Sleep deeply through improved sleep quality
With Aloe vera, saffron and hop extract.
Contains L-tryptophan, magnesium, zinc and B vitamins.
Free from gluten, lactose and sugar
Night Master Sleep Quality Improvement 100% vegan
Quantity: 3 x 30 Sticks a 3,7 g each

Night Master Sleep Improvement Set
Night Master Sleep Improvement Set You will Fall asleep easier.
Night Master Sleep Improvement Set provides a long-term restful, regenerative sleep and thus contributes to the improvement of the quality of life.
Night Master relaxes body and soul in the long term if taken regularly and lets you fall asleep faster. Relaxation and peace for body and soul are key to falling asleep quickly. Without them, thoughts do not come to rest and muscles cannot relax.
It improves your sleep quality and supports your body's natural production of the sleep hormone Melatonin. Many factors contribute to a good sleep. The Melatonin level is crucial. Melatonin regulates sleeping and waking phases. In an appropriate concentration it makes you tired and lets you fall asleep quickly and sleep through the whole night.
Lr Night Master Sleep Improvement improves natural recovery for body and soul during sleep so that you wake up fit and well rested and recharge your batteries for the day. Regeneration during sleep is essential: We process information, impressions and stimuli while we are sleeping. Growth hormones are released that stimulate muscle growth and repair mechanisms. The immune system can also recover.

Night Master Sleep Improvement Set – Natural recovery during sleep
A restful, regenerative sleep is essential for people – for body and mind. The right combination of nutrients can additionally support sleep. In addition, even small adjustments in everyday life can do a lot of good things for a restful sleep.
Expert Tips:
Nutrition
Internal organs also have their rhythm. Pancreas and intestines e.g. B. switch to low flame at night. Therefore, the timing and amount of food have an impact on sleep quality and recovery value. Remember that after the last meal, the body has many hours to digest. At least during the week, plan your evening meal so that you are still well-saturated but do not go to bed fully. There are also foods that can help us sleep.
Way of life
The more active you spend the day, the better you can sleep at night. Do not sit for more than 20 minutes at a time. Get up more often. The trip to the coffee machine or the toilet also counts. If you do not go out regularly or can do sports, you should plan small movement units of 1-2 minutes during the day. Then the stress can not settle so easily in the body.
Move
Many influences from inside and outside affect our sleep. It is worth optimizing them. Because our quality of sleep depends on our immediate well-being and, in the long term, our health. Little things can have a big impact here.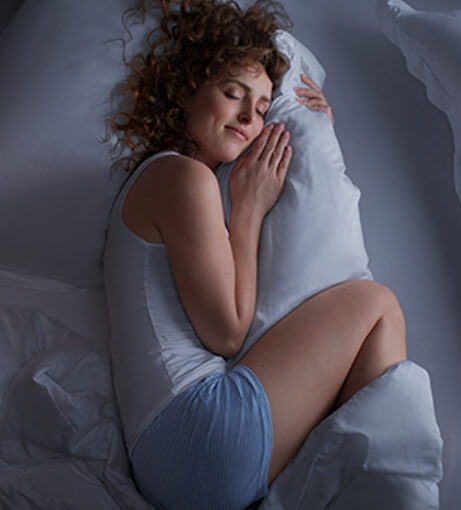 Night Master Ingredients & Effects
Night Master Sleep Improvement contains important natural ingredients such as Aloe vera, saffron and hop extract. In addition, it contains L-tryptophan, magnesium, zinc and four B vitamins.
Aloe vera supports build-up and regeneration processes during the night and helps you wake up refreshed. It also enhances the utilization of other active ingredients in the body and thus increases the bioavailability.
Saffron helps you falling asleep faster, improves sleeping quality and recovery during the night. In addition, it reduces anxiety. Saffron contains antioxidants among other ingredients. Responsible for this are the secondary plant substances in saffron such as carotenoids. They are called crocin and crocetin and are responsible for the yellow colour of saffron.
L-tryptophan belongs to the essential amino acids and cannot be produced by the human body but must be absorbed through food. L-tryptophan is the precursor of serotonin (also known as happiness hormone), which in turn is converted into the sleep hormone melatonin.
The mineral Magnesium is involved in virtually all body functions and thus influences e.g. muscles and nerve cells. In addition, it is also responsible for the conversion of the essential amino acid L-tryptophan into serotonin as well as for the melatonin production. Melatonin is the sleep hormone that controls the body's sleep-wake rhythm.
Zinc in Night Master is a vital trace element and the second most common in the human body. It is responsible for several metabolic processes: Zinc for example plays an important role during regeneration such as the growth processes of the body and the strengthening of the immune system. Zinc is also involved in the formation of serotonin and its conversion into melatonin.
B vitamins are also called nerve or energy vitamins. They play an important role in the formation of serotonin and melatonin and thus contribute to the body's own natural sleep-wake rhythm.
Niacin (vitamin B3) regulates the energy metabolism in the cells (mitochondria) and contributes to regeneration.
Vitamin B6 is important for the amino acid metabolism and is involved in the production of neurotransmitters such as serotonin and the immune system.
Thiamine (vitamin B1) supports the regeneration of body and soul.
Vitamin B12 supports cell division and thus promotes natural regeneration. It reduces tiredness and fatigue in a long term.
Did You Know?
Night Master Sleep Improvement is 100% vegan, free from gluten, lactose and sugar. It contains important natural ingredients such as Aloe vera, saffron and hop extract. In addition, it contains L-tryptophan, magnesium, zinc and four B vitamins. Night Master can be taken daily over a longer period without any risk of addiction.
How to use Night Master Sleep Improvement Set
Stir the contents of one stick into 100ml of water and drink it 30 minutes before going to bed. Night Master can also be taken after brushing your teeth as it is sugar-free.
Trimagnesium dicitrate, sweetener (xylitol), L-tryptophan, food coloring (beetroot powder), zinc gluconate, saffron extract (0.8%), hop extract (0.7%), natural flavor, nicotinamide, aloe vera powder (0, 4%), pyridoxine hydrochloride, thiamine mononitrate, methylcobalamin.
You may also like…